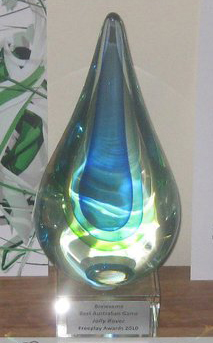 Jolly Rover just won Best Australian Game at FreePlay!
This is a huge honour for me, and a credit to the team that worked very hard to make this dream a reality!
I can now say "The award winning Jolly Rover"… it occurs to me that I now need some kind of "Awards" section on the site. But until such time, you can check out the award prettiness here.
Hopefully this award can in some way help me to continue doing what I love with awesome people, and mean the Jolly Rover sequel doesn't take too long to come out.