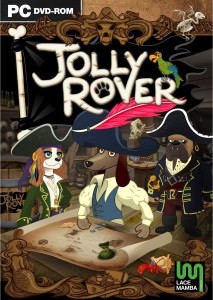 I'm pleased to finally be able to announce Brawsome's deal with adventure game publisher Lace Mamba Global!
This deal is a worldwide exclusive deal with Lace Mamba for retail distribution and localisation into German, Spanish, Italian, Russian Polish and French. Brawsome is currently working with the publisher on the Polish localisation.
The retail version will come with exclusive extras including a high quality soundtrack and bonus concept and hi-res art as well as using uncompressed art assets for the game.
I personally couldn't be happier with press and awards Jolly Rover has received, considering it's a 2D point and click adventure; which is a credit to the awesome team that worked on the game. There's been a lot of excitement around this announcement, and getting a physical copy of the game out there is a dream come true for me. Hopefully this will be allow me to keep doing what I love. Working with Lace Mamba is also really cool, as they really understand adventure games, and are a publisher of one of my favourite titles of last year – Machinarium.
Glenn Hayes, UK Sales Manager of Lace Mamba Global commented: "Jolly Rover is a fun, hilarious classic adventure game with dogs! The reviews have been good, and when we were presented with the opportunity to take this to retail worldwide we thought it would be lot of fun to work on a product of this sort!"
People can look forward to the Jolly Rover boxed version for PC & Mac in February 2011. The game can also be pre-ordered at Amazon and Play.com.
UPDATE: Just wanted to make a special mention of Polish publisher IQ Publishing, which is working me at the moment on FULL voice and text localisation. They're really going the extra mile to make sure the Polish boxed version is extra special.