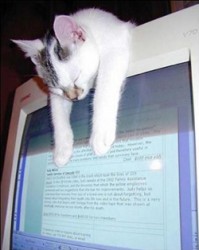 Well, it's finally done! The new Brawsome page is complete (unless you go poking about looking for the bits that aren't yet, in which case, shame on you). Yes, it was time to move on from the flashtastic site of yesteryear, and step into the realm of the future, with crazy optional extras like accessibility and unified pages. So now, rather than looking at the Jolly Rover website for news (which didn't really make much sense anyway), you can find everything under the one metaphorical roof.
In other news, our recently announced project (previously known as Urban Wolf) has undergone a change of its own, being renamed MacGuffin's Curse. There are a couple of reasons for this – firstly, the other one was always a working title to begin with, and we were kindly pointed out by a friend that other things had that name (including a very trendy dog food). MacGuffin's Curse focuses more on the character than the place, so that was another reason to use it.
For a while though, it was very nearly Streets of Fur (no it wasn't).