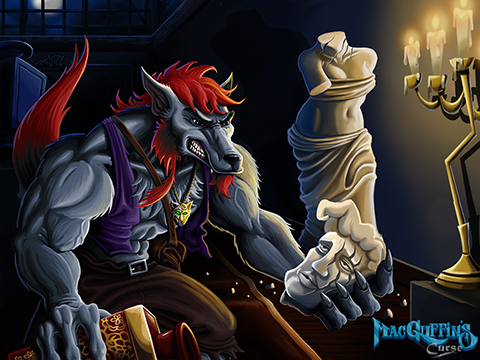 What horrors await you in Alphonse's Treasury? Find out in this free update for MacGuffin's Curse, which is on sale for 50% off today only! You might have thought Alphonse was an egotistical homicidal megalomaniac before, but nothing thus far has prepared you for what you'll find in his his inner sanctum!
Warning: Contents of the treasury update cannot be unseen!
Aside from the fact that you might need to go and watch The Ring to get a good night's sleep again, the Treasury update also adds:
13 lovingly hand-stitched rooms with more of the MacGuffin trademark humor and puzzles
9 unique items to be fleeced for in Harvey's shop
5 side quests
2 inventory items of polarizing awesomeness
1 achievement of questionable copyright
Loads of dialogue, including new developer commentary
This update is now available to all those who have already supported the game with their purchase, simply because we think they're swell, and we don't believe in stinging them for new content for a game they've already bought. What? You haven't bought it yet? That's okay, grab a DRM Free copy for PC & Mac with additional Steam key here. Or buy a copy for your BFF. They're your BFF after all, don't be so stingy!
iOS and Mac App Store users. We've crammed this update into Apple's system, and it's currently working it's way through. We're not sure when the shocking new content will be approved and pop out the other end, or come back up for changes, but when it does, you'll know.
Oh and finally, if you like the fine Treasury art by the talented Paul Bowers, you can get your very own copy in your desired dimensions below