One of the things I learned early on during my game developer career is that it's always important to reward your player. I'm not just talking about things you'd expect, such as unlockable content, finding new items that help you progress further in the game, and so on. There are also subtle, little things that are important which you can take for granted.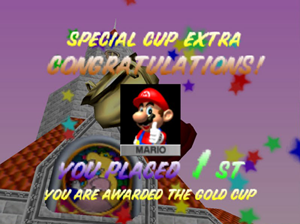 When I was performing QA at one company, we received a list of feedback from Nintendo Japan's Super Mario Club for a racing game I was working on. This was really exciting and useful for me, as it gave me insight as to what can help the player enjoy the game more. For example: adding confetti to the race results screen, and making the trophy you received look bigger. These changes weren't hard to make, and meant that the player felt like they'd accomplished something on each race. Giving your player a positive feeling is always important – it seems that sometimes developers can forget that games are meant to be fun!
If you've played Super Mario World, you'll always remember the game's level completion. Let's dissect it. In approximately 10 seconds, you get:
A star display when you cut the ribbon (with a secret reward if you cut the ribbon at the tip-top)
A fadeout to just Mario, to get the spotlight on your success
A neat jingle that celebrates your level completion
Text that tells you you've completed the level, and your level stats
A drumroll as your stats convert to score
A pose from Mario for a job well done
And finally, an iris out as he exits the stage
In ten seconds, Nintendo has managed to make you feel like the most amazing person ever for crossing the finish line. And this happens every time you complete a level! Why wouldn't you want to keep playing when it comes to positive reinforcement like that?